Adding new content¶
When software is developed certain documentation criteria must be met in order for the software to be considered feature complete. And like software, a documentation contribution must be implemented correctly.
The practice of modelling one's contribution on existing pages can be counter-productive as the documentation set may not always be in an ideal state. Therefore, first establish what you want to add and then, based on the available sources, determine where to place it and how to do so.
There is a logical order to this document's contents. Please go through it sequentially.
Diátaxis¶
The Diátaxis framework is used throughout the documentation wherever appropriate. It provides a conceptual approach to writing, which in turn affects how documentation is created and how a set of pages is organised. Becoming familiar with Diátaxis is the first step to contributing.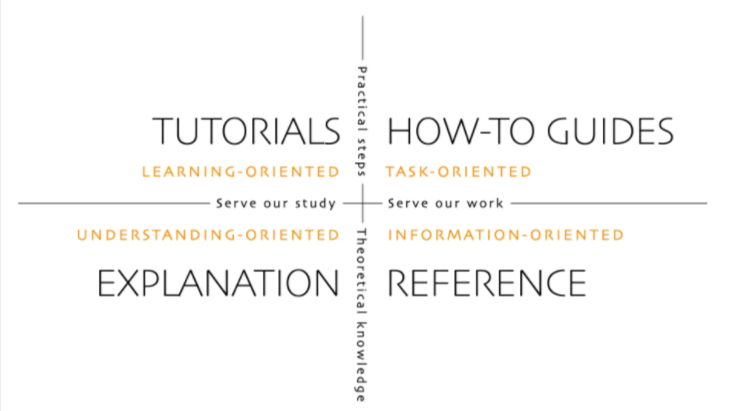 Note
Charmed OpenStack documentation prefers the term "Concepts" in the place of "Explanations".
Further reading: a conference talk - PyCon Australia 2017
Monolithic vs distributed¶
Now that the Diátaxis framework is understood we can consider what form a contribution can take. It should be clear that a contribution need not be a monolithic piece of work; it can be distributed. For instance, on the same general topic, there can be several interconnected parts such as a conceptual treatment, a howto guide, and a tutorial. Speak to colleagues, discuss with your local documentarian, or chat on the user forum.
Sources¶
Assuming that the specific pieces of work have been identified they each need to be published in the appropriate location, with the right tools, and in the correct format. The following sub-sections provide an outline of each documentation source. A summary of these sources is given on the parent page.
Writing style¶
Please use the Writing style guide when creating content. Documentation is more clearly understood by users and developers alike when it is implemented in a consistent manner.
Technical accuracy¶
The contribution needs to be technically correct. In particular, if the content is a Howto or a Tutorial then the collection of steps must be tested and verified.