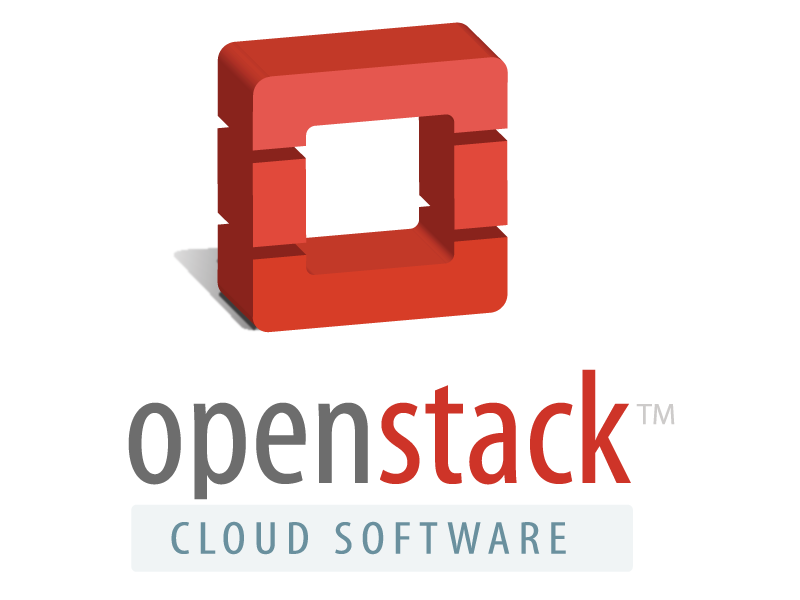 Scaling OpenStack Development with Git, Gerrit, and Jenkins
Monty Taylor <
mordred@inaugust.com
>
James E. Blair <
corvus@inaugust.com
>
Systems
https://jenkins.openstack.org
https://review.openstack.org
http://ci.openstack.org (docs)
https://jenkins.stackforge.org
Projects
nova (compute)
swift (object storge)
glance (image service)
keystone (identity service)
quantum (network service)
horizon (dashboard)
cinder (volume service)
python-novaclient
python-swiftclient
python-glanceclient
python-keystoneclient
python-quantumclient
python-cinderclient
python-openstackclient
Contributors
Individual Contributors
Commercial Entities
Number, quality, and area of contributions can change daily
Release Management
Time Based Releases
Six Month Cadence
Design summits each cycle
Continuously Open Trunk

Develop directly on master

One Month Milestone Releases
Post-release Stable Branches
Vision
Consistent Tooling
Consistent Process
Consistent Product
Multiplier Effect
Consistent Tooling
Minimize meta-development
Process divergence == wasted developer time
Lowers onboarding time
Consolidate tool development
Minimize project-specific weird build crud
Development Infrastructure Systems
Environment
Ubuntu
Python

pep8 standards
openstack.common

virtualenv/pip
IRC (#openstack-dev, #openstack-meeting)
devstack
gated trunk based on master
Gated Trunk
Ensures Code Quality
Protects developers

Devs always start from working code

Protects tree
Egalitarian

Process is the same for everyone
Process is transparent
Process is automated
Everything Is Automated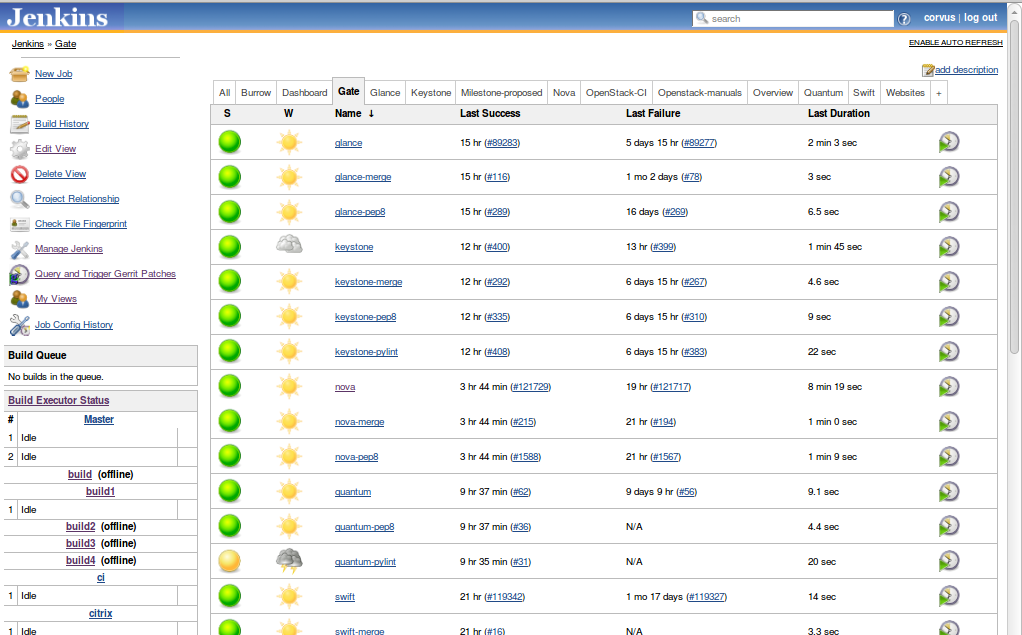 Process Flow
Code is written and locally tested in a virtualenv
Code is submitted for code review to gerrit
Code is run through patch-uploaded automated checks
Code is peer-reviewed
Code is accepted or rejected by core team
Code is run through pre-merge automated checks
Code is merged or rejected
Code is run through post-merge automated checks
Gerrit
Developed by Google for Android
Stand-alone patch review system
Integration points: hooks, JSON queries, event-stream
Extensible review categories, default: Verified, Code-Review
Pre-merge Check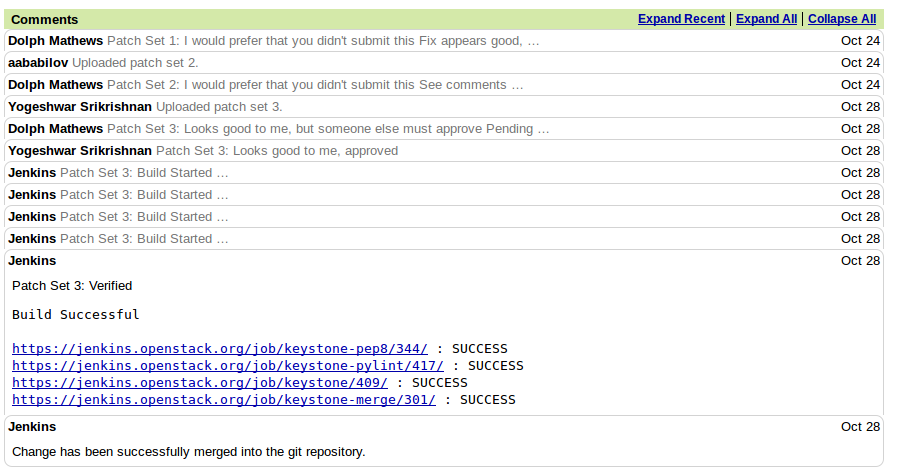 States of a Patch
Code Submitted
Code Verified
Code Reviewed
Code Accepted
Code Landed
Approved Reviews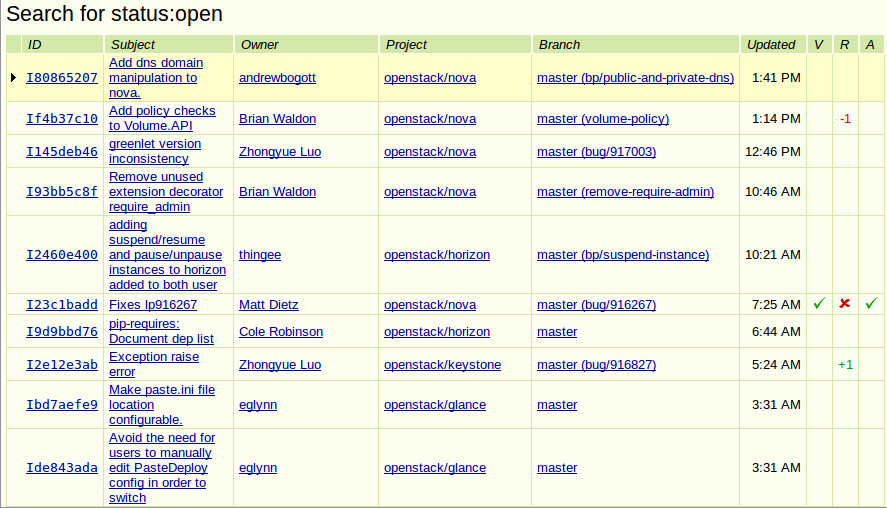 Types of Jenkins Gerrit Triggers
Patchset uploaded
Change merged
Comment added (review state)
Git Review
External Git subcommand
Developers can easily incorporate code review into git workflow
Zero-configuration
Can be used for any project, being adopted by other projects

corvus@shiprock:~/rs/github/quantum$ git commit -a
[new-versionpy ddf1dce] Base version.py on glance.
 3 files changed, 28 insertions(+), 107 deletions(-)
 delete mode 100644 version.py

corvus@shiprock:~/rs/github/quantum$ git review
remote: Resolving deltas:   0% (0/3)
remote: 
remote: New Changes:
remote:   https://review.openstack.org/3072
remote: 
To ssh://corvus@review.openstack.org:29418/openstack/quantum.git
 * [new branch]      HEAD -> refs/for/master/bug/916018

Types of Tests
Unit tests
Integration tests

May be able to run on virtual servers, should run on real servers
Difficult or impossible for a developer to run
Specific Challenges/Solutions
Testing effect of merging change
Using cloud builders
Large numbers of similar projects
Disparate hardware configurations
gerrit git prep
test the result of the change, not the change
https://github.com/openstack/openstack-ci-puppet/blob/master/modules/jenkins_slave/files/slave_scripts/gerrit-git-prep.sh
For each gerrit change:

grabs target branch
cleans tree
merges change to be tested
Interrelated integration testing
devstack-gate

spin up fresh node
run devstack
run integration tests

Gate proposed change against current state of other projects
bottlenecking
Serialize branches across all projects
optimistic branch prediction
Run in parallel in order triggered
Assume success
Start over on failure
devstack-gate problems
Clouds suck
github sucks
pypi sucks
Ubuntu sucks
ALL NETWORK ACCESS IS FAILURE
devstack-gate solutions
Create a new node
pre-fetch all needed packages, repos
snapshot to cloud image
maintain a pool of cloud nodes
slave can only be used for one test run
set of python and shell scripts triggered by jenkins
jclouds-plugin
ec2 plugin useless to me (sorry)
Adrian Cole and Cloudsoft wrote jclouds-plugin
Provisions on any provider via jclouds
Image pre-creation and pooling features
single use slaves
Slave provisioning as build step
Templated jobs
TONS of consistent projects
Manage everything through git and code review
https://github.com/openstack/openstack-ci-puppet/tree/master/modules/jenkins_jobs
Manage jobs as yaml files in git
Jobs updated via Jenkins API
groupings of jobs supported "nova: python_jobs"
Simple example

project:
  template: 'python_jobs'

values:
  name: 'python-novaclient'
  site: 'openstack'
  disabled: 'false'

complex example

---
modules:
  - properties
  - scm
  - assignednode
  - trigger_gerrit
  - builders
  - publisher_none

main:
  name: 'gate-ceilometer-merge'
  site: 'stackforge'
  project: 'ceilometer'
  authenticatedBuild: 'true'
  disabled: 'false'

trigger:
  triggerOnPatchsetUploadedEvent: 'false'
  triggerOnChangeMergedEvent: 'false'
  triggerOnCommentAddedEvent: 'true'
  triggerOnRefUpdatedEvent: 'false'
  triggerApprovalCategory: 'APRV'
  triggerApprovalValue: 1
  failureMessage: 'This change was unable to be automatically merged with the current state of the repository. Please rebase your change and upload a new patchset.'
  projects:
    - projectCompareType: 'PLAIN'
      projectPattern: 'stackforge/ceilometer'
      branchCompareType: 'ANT'
      branchPattern: '**'

builders:
  - gerrit_git_prep

scm:
  scm: 'false'

assignednode:
  node: 'oneiric'


Scaling hardware needs
Different vendors have different combinations of configurations
Run their own jenkins
Consume gerrit event stream
their jenkins votes VRFY +1/-1
Our jenkins votes VRFY +2/-2
The can run their lab - I don't have to know anything about it
Thanks!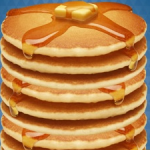 These slides available at: https://github.com/openstack-ci/publications