BGP dynamic routing¶
BGP dynamic routing enables advertisement of self-service (private) network prefixes to physical network devices that support BGP such as routers, thus removing the conventional dependency on static routes. The feature relies on address scopes and requires knowledge of their operation for proper deployment.
BGP dynamic routing consists of a service plug-in and an agent. The service plug-in implements the Networking service extension and the agent manages BGP peering sessions. A cloud administrator creates and configures a BGP speaker using the CLI or API and manually schedules it to one or more hosts running the agent. Agents can reside on hosts with or without other Networking service agents. Prefix advertisement depends on the binding of external networks to a BGP speaker and the address scope of external and internal IP address ranges or subnets.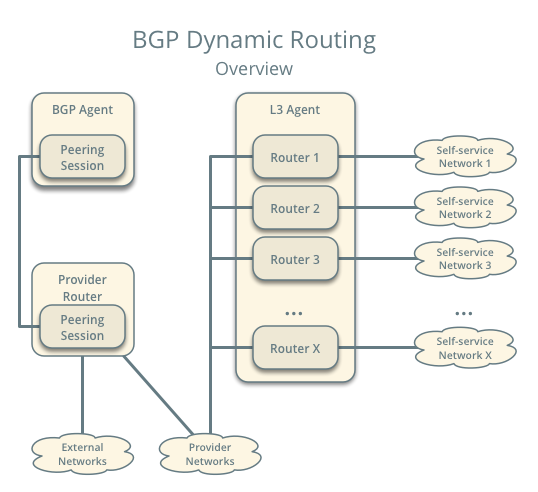 Note
Although self-service networks generally use private IP address ranges (RFC1918) for IPv4 subnets, BGP dynamic routing can advertise any IPv4 address ranges.