BGP Floating IPs over L2 Segmented Networks¶
The general principle is that L2 connectivity will be bound to a single rack. Everything outside the switches of the rack will be routed using BGP. To perform the BGP announcement, neutron-dynamic-routing is leveraged.
To achieve this, on each rack, servers are setup with a different management network using a vlan ID per rack (light green and orange network below). Note that a unique vlan ID per rack isn't mandatory, it's also possible to use the same vlan ID on all racks. The point here is only to isolate L2 segments (typically, routing between the switch of each racks will be done over BGP, without L2 connectivity).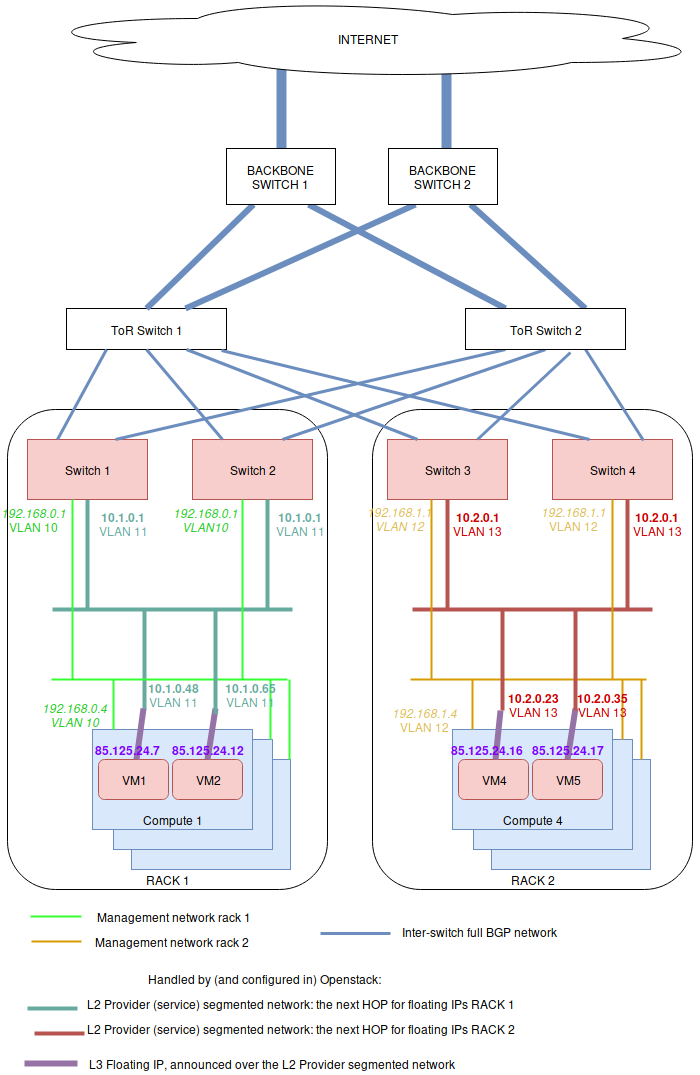 On the OpenStack side, a provider network must be setup, which is using a different subnet range and vlan ID for each rack. This includes:
an address scope

some network segments for that network, which are attached to a named physical network

a subnet pool using that address scope

one provider network subnet per segment (each subnet+segment pair matches one rack physical network name)
A segment is attached to a specific vlan and physical network name. In the above figure, the provider network is represented by 2 subnets: the dark green and the red ones. The dark green subnet is on one network segment, and the red one on another. Both subnet are of the subnet service type "network:floatingip_agent_gateway", so that they cannot be used by virtual machines directly.
On top of all of this, a floating IP subnet without a segment is added, which spans in all of the racks. This subnet must have the below service types:
network:routed

network:floatingip

network:router_gateway
Since the network:routed subnet isn't bound to a segment, it can be used on all racks. As the service types network:floatingip and network:router_gateway are used for the provider network, the subnet can only be used for floating IPs and router gateways, meaning that the subnet using segments will be used as floating IP gateways (ie: the next HOP to reach these floating IP / router external gateways).