Linux bridge: Self-service networks¶
This architecture example augments Linux bridge: Provider networks to support a nearly limitless quantity of entirely virtual networks. Although the Networking service supports VLAN self-service networks, this example focuses on VXLAN self-service networks. For more information on self-service networks, see Self-service networks.
Note
The Linux bridge agent lacks support for other overlay protocols such as GRE and Geneve.
Prerequisites¶
Add one network node with the following components:
Three network interfaces: management, provider, and overlay.

OpenStack Networking Linux bridge layer-2 agent, layer-3 agent, and any

dependencies.
Modify the compute nodes with the following components:
Add one network interface: overlay.
Note
You can keep the DHCP and metadata agents on each compute node or move them to the network node.
Architecture¶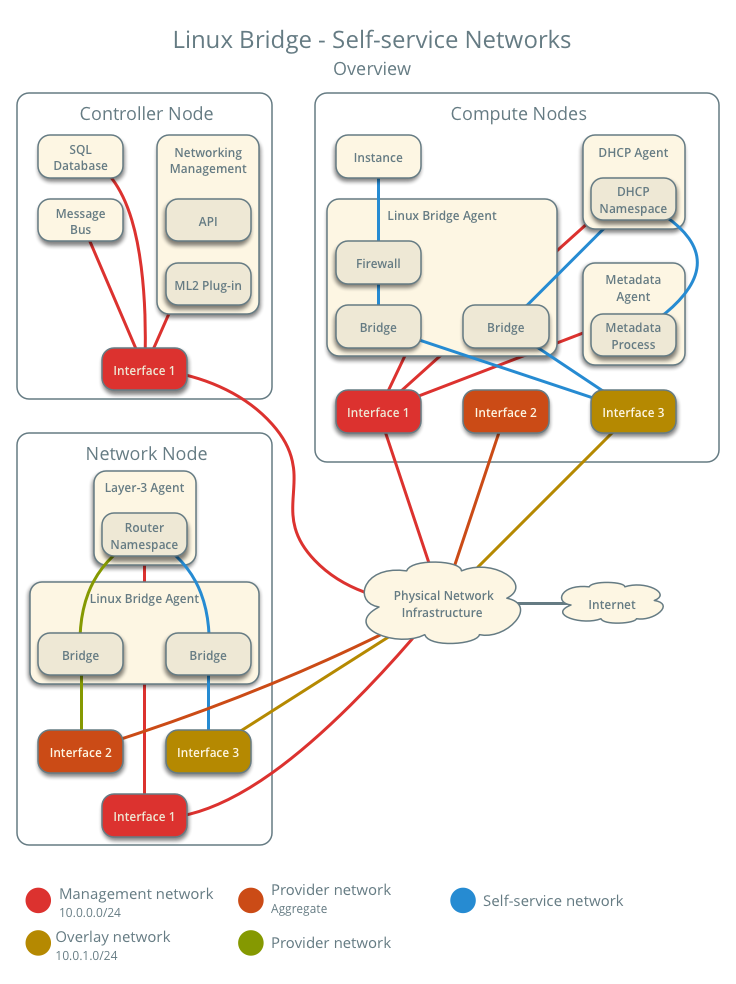 The following figure shows components and connectivity for one self-service network and one untagged (flat) provider network. In this particular case, the instance resides on the same compute node as the DHCP agent for the network. If the DHCP agent resides on another compute node, the latter only contains a DHCP namespace and Linux bridge with a port on the overlay physical network interface.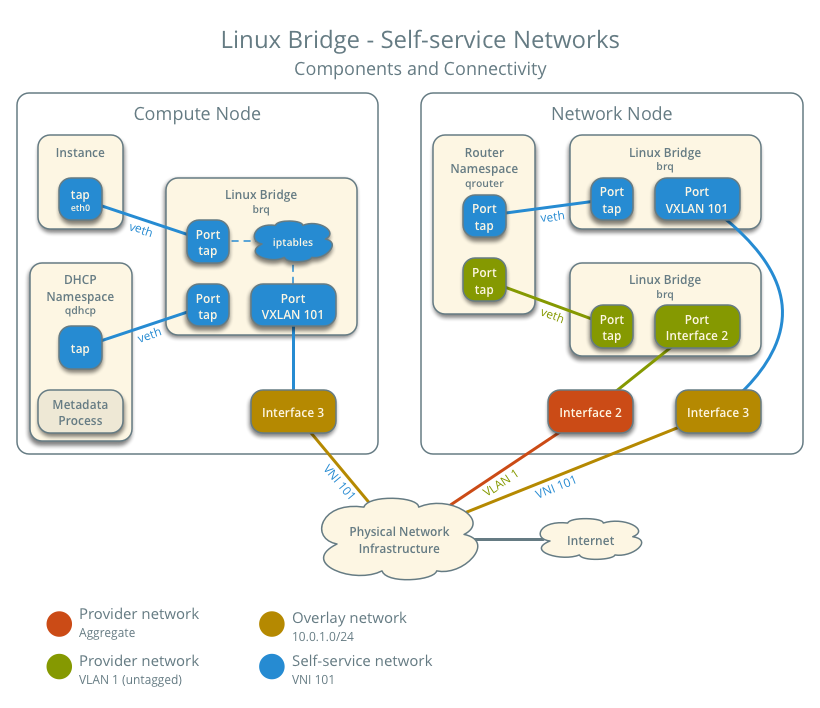 Example configuration¶
Use the following example configuration as a template to add support for self-service networks to an existing operational environment that supports provider networks.
Network traffic flow¶
The following sections describe the flow of network traffic in several common scenarios. North-south network traffic travels between an instance and external network such as the Internet. East-west network traffic travels between instances on the same or different networks. In all scenarios, the physical network infrastructure handles switching and routing among provider networks and external networks such as the Internet. Each case references one or more of the following components:
Provider network (VLAN)

Self-service network 1 (VXLAN)

Self-service network 2 (VXLAN)

Self-service router

Gateway on the provider network

Interface on self-service network 1

Interface on self-service network 2

Instance 1

Instance 2