.

Copyright (c) 2010 Citrix Systems, Inc. All Rights Reserved.

Licensed under the Apache License, Version 2.0 (the "License"); you may not use this file except in compliance with the License. You may obtain a copy of the License at

Unless required by applicable law or agreed to in writing, software distributed under the License is distributed on an "AS IS" BASIS, WITHOUT WARRANTIES OR CONDITIONS OF ANY KIND, either express or implied. See the License for the specific language governing permissions and limitations under the License.
AMQP and Nova
AMQP is the messaging technology chosen by the OpenStack cloud. The AMQP broker, either RabbitMQ or Qpid, sits between any two Nova components and allows them to communicate in a loosely coupled fashion. More precisely, Nova components (the compute fabric of OpenStack) use Remote Procedure Calls (RPC hereinafter) to communicate to one another; however such a paradigm is built atop the publish/subscribe paradigm so that the following benefits can be achieved:
Decoupling between client and servant (such as the client does not need to know where the servant's reference is).
Full a-synchronism between client and servant (such as the client does not need the servant to run at the same time of the remote call).
Random balancing of remote calls (such as if more servants are up and running, one-way calls are transparently dispatched to the first available servant).
Nova uses direct, fanout, and topic-based exchanges. The architecture looks like the one depicted in the figure below: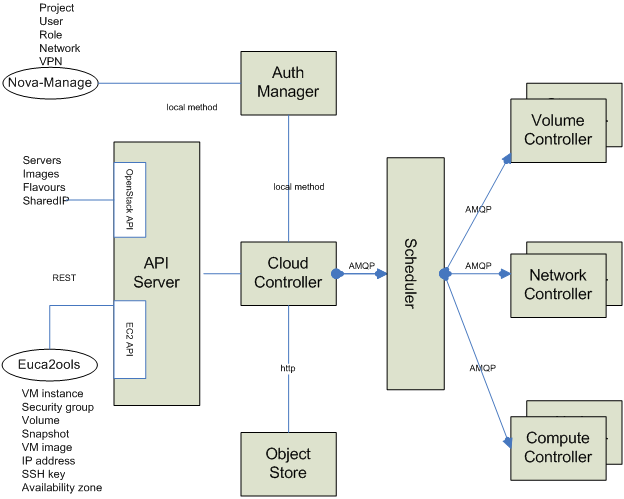 Nova implements RPC (both request+response, and one-way, respectively nicknamed 'rpc.call' and 'rpc.cast') over AMQP by providing an adapter class which take cares of marshaling and unmarshaling of messages into function calls. Each Nova service (for example Compute, Scheduler, etc.) create two queues at the initialization time, one which accepts messages with routing keys 'NODE-TYPE.NODE-ID' (for example compute.hostname) and another, which accepts messages with routing keys as generic 'NODE-TYPE' (for example compute). The former is used specifically when Nova-API needs to redirect commands to a specific node like 'euca-terminate instance'. In this case, only the compute node whose host's hypervisor is running the virtual machine can kill the instance. The API acts as a consumer when RPC calls are request/response, otherwise it acts as a publisher only.