ETSI NFV-SOL VNF Deployment as VM with TOSCA¶
This document describes how to deploy VNF as VM with TOSCA in Tacker using CLI commands.
Overview¶
The diagram below shows an overview of the VNF deployment.
Request create VNF

A user requests tacker-server to create a VNF with tacker-client by uploading a VNF Package and requesting create VNF. The VNF Package should contain VNFD. The detailed explanation of VNFD can be found in VNF Package.

Request instantiate VNF

A user requests tacker-server to instantiate the created VNF by requesting instantiate VNF with instantiate parameters.

Call OpenStack Heat API

Upon receiving a request from tacker-client, tacker-server redirects it to tacker-conductor. In tacker-conductor, the request is redirected again to an appropriate infra-driver (in this case OpenStack infra-driver) according to the contents of the instantiate parameters. Then, OpenStack infra-driver calls OpenStack Heat APIs to create a VM as a VNF.

Create a VM

OpenStack Heat creates a VM according to the API calls.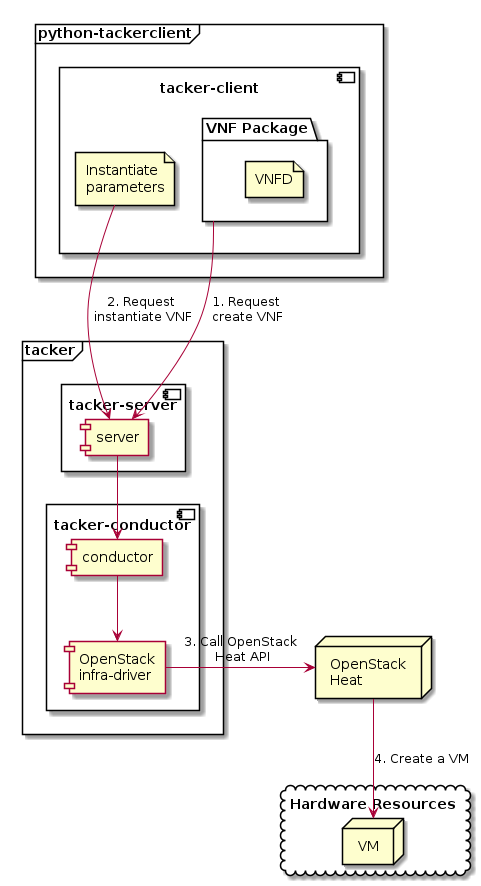 Prerequisites¶
The following packages should be installed:
tacker

python-tackerclient
A default VIM should be registered according to VIM Management.
The VNF Package(sample_vnf_pkg.zip) used below is prepared by referring to VNF Package.