Ironic¶
Overview¶
Ironic is an OpenStack project which provisions bare metal (as opposed to virtual) machines. This document describes deploying charmed OpenStack with Ironic. It is important to have Upstream Ironic Documentation as context.
Note
Ironic is supported by Charmed OpenStack starting with OpenStack Ussuri on Ubuntu 18.04.
Currently, charmed Ironic requires Neutron OpenVSwtich as the SDN and does not support OVN.
Charms¶
There are three Ironic charms:
ironic-api (Ironic API)

ironic-conductor (Ironic Conductor)

neutron-api-plugin-ironic (Neutron API Plugin Ironic API)

SDN plugin subordinate to Neutron API
Deployment considerations¶
See Example Bundle for a known working configuration. The bundle deploys an instantiation of nova-compute dedicated to Ironic. The virt-type is set to 'ironic' in order to indicate to Nova that bare metal deployments are available.
Note
The Ironic instantiation of nova-compute does not require compute or network resources and can therefore be deployed in a LXD container.
nova-ironic

:




  

charm

:

 

cs:~openstack-charmers-next/nova-compute




  

series

:

 

focal




  

num_units

:

 

1




  

bindings

:




    

""

:

 

*oam-space




  

options

:




    

enable-live-migration

:

 

false




    

enable-resize

:

 

false




    

openstack-origin

:

 

*openstack-origin




    

virt-type

:

 

ironic




  

to

:




    

-

 

"lxd:3"



Network topology¶
The primary consideration for a charmed OpenStack deployment with Ironic is the network topology. In a typical OpenStack deployment one will have a single provider network for the "external" network where floating IPs and virtual router interfaces will be instantiated. Some topologies may also include an "internal" provider network. For the charmed Ironic deployment we recommend a dedicated provider network (i.e. physnet) for bare metal deployment. There are other ML2 solutions that support the bare metal VNIC type. See the enabled-network-interfaces setting on the ironic-conductor charm.
Note
This dedicated network will not be managed by MAAS as Neutron will provide DHCP in order to enable Ironic to respond to bare metal iPXE requests.
In the examples below the network node will have three interfaces:
enp1s0: OAM network (network the infrastructure is deployed on)

enp7s0: External - physnet1

enp8s0: Deployment - phystnet2
See the documentation in the Ussuri version of this guide for Neutron networking deployment.
In the bundle the relevant settings for neutron-gateway are:
neutron-gateway




  

options

:




    

bridge-mappings

:

 

physnet1:br-ex physnet2:br-deployment




    

data-port

:

 

br-ex:enp7s0 br-deployment:enp8s0



The view from outside OpenStack will look something like: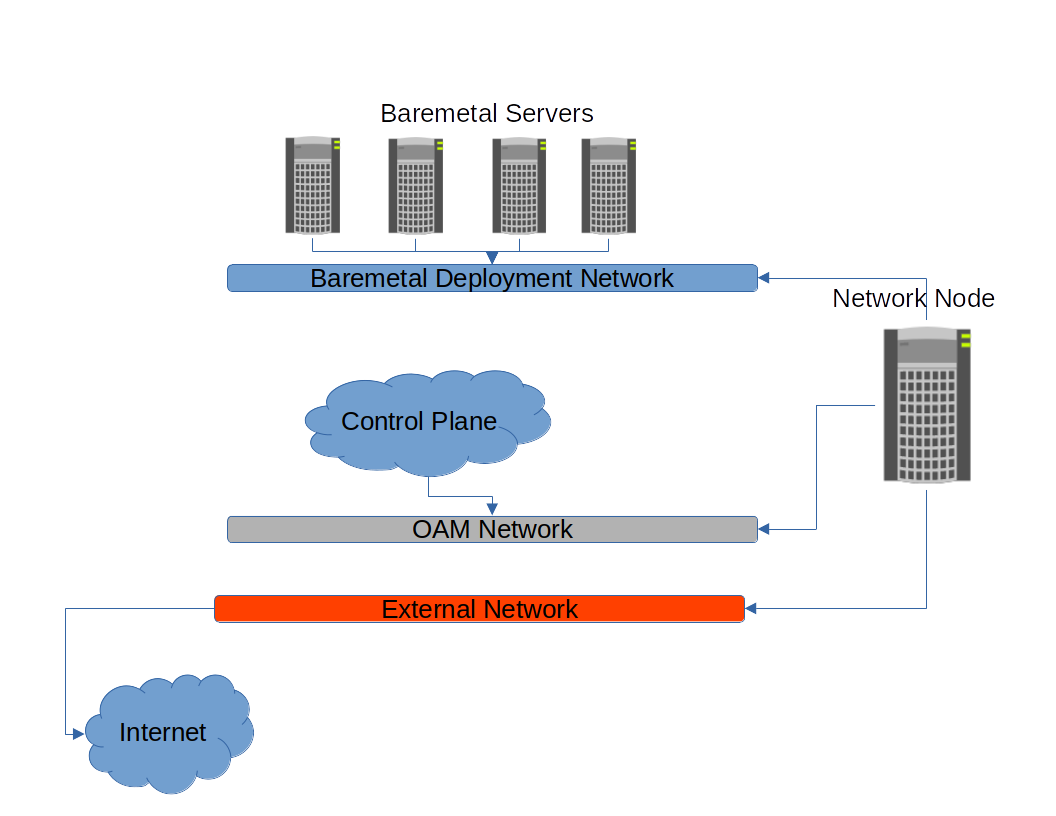 The view from inside OpenStack will look something like: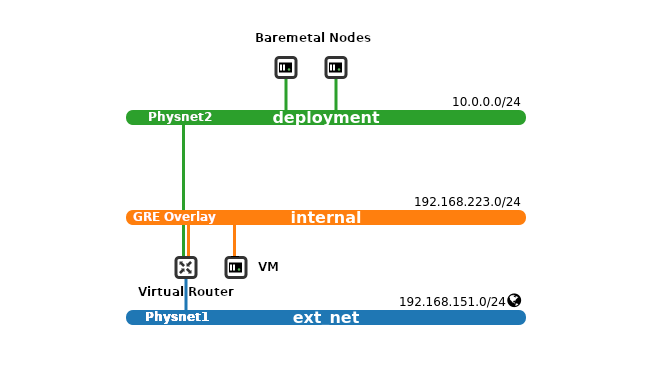 Note
Ironic conductor (in the control plane cloud above) requires network connectivity both to the bare metal nodes on the bare metal deployment network and to the power management interfaces for the bare metal nodes (not shown in the diagram above).
In addition, the baremetal nodes themselves require network connectivity to the ironic-api to acquire metadata and the object-store (Swift or RadosGW) to acquire images.
Swift backend for Glance¶
In order to use the direct deployment method (see Ironic deploy interfaces) we need to have Glance store bare metal images in a Swift backend to make them accessible by bare metal servers.
Add a relation between glance and ceph-radosgw:
juju add relation ceph-radosgw:object-store glance:object-store

Post-deployment configuration¶
This section is specific to Ironic (see the Configure OpenStack page for a typical post-deployment configuration).
Note
The rest of this section provides an example of a bare metal setup with IPv4 and a dedicated provider network (physnet2).