Dependency Management for OpenStack Projects¶
Why do we have a global requirements list?¶
During the Havana release cycle we kept running into coherency issues with trying to install all the OpenStack components into a single environment. The issue is that syncing of requirements.txt between projects was an eventually consistent problem. Some projects would update quickly, others would not. We'd never have the same versions specified as requirements between packages.
Because of the way that python package installation with pip works, this means that if you get lucky you'll end up with a working system. If you don't you can easily break all of OpenStack on a requirements update.
An example of how bad this had gotten is that python-keystoneclient would typically be installed / uninstalled 6 times during the course of a DevStack gate run during Havana. If the last version of python keystoneclient happened to be incompatible with some piece of OpenStack a very hard to diagnose break occurs.
We also had an issue with projects adding dependencies of python libraries without thinking through the long term implications of those libraries. Is the library actively maintained? Is the library of a compatible license? Does the library duplicate the function of existing libraries that we already have in requirements? Is the library python 3 compatible? Is the library something that already exists in Linux Distros that we target (Ubuntu / Fedora). The answer to many of these questions was no.
Global requirements gives us a single place where we can evaluate these things so that we can make a global decision for OpenStack on the suitability of the library.
Since Havana we've also observed significant CI disruption occurring due to upstream releases of software that are incompatible (whether in small or large ways) with OpenStack. So Global Requirements also serves as a control point to determine the precise versions of dependencies that will be used during CI.
Solution¶
The mechanics of the solution are relatively simple. We maintain a central list of all the requirements (global-requirements.txt) that are allowed in OpenStack projects. This is enforced for requirements.txt, test-requirements.txt, doc/requirements.txt, and extras defined in setup.cfg. This is maintained by hand, with changes going through CI.
We also maintain a compiled list of the exact versions, including transitive dependencies, of packages that are known to work in the OpenStack CI system. This is maintained via an automated process that calculates the list and proposes a change back to this repository. A consequence of this is that new releases of OpenStack libraries are not immediately used: they have to pass through this automated process before we can benefit from (or be harmed by) them.
Each project team may also optionally maintain a list of "lower bounds" constraints for the dependencies used to test the project in a lower-constraints.txt file. If the file exists, the requirements check job will ensure that the values it contains match the minimum values specified in the local requirements files, so when the minimums are changed lower-constraints.txt will need to be updated at the same time. Per-project test jobs can be configured to use the file for unit or functional tests.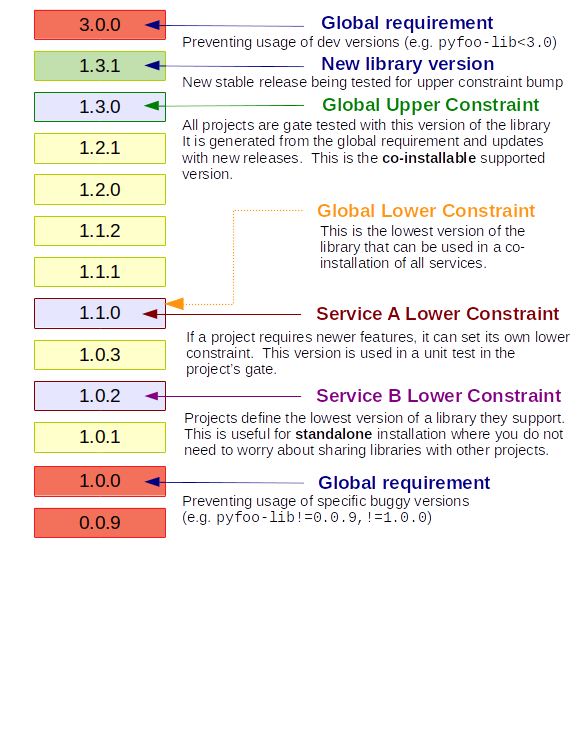 Format¶
global-requirements.txt supports a subset of pip requirement file contents. Distributions may only be referenced by name, not URL. Options (such as -e or -f) may not be used. Environment markers and comments are permitted. Version specifiers are only allowed for excluding versions, not setting minimum required versions (minimum required versions may optionally be specified in lower-constraints.txt per-project). A single distribution may be listed more than once if different specifiers are required with different markers - for instance, if a dependency has dropped Python 2.7 support.
upper-constraints.txt is machine generated and nothing more or less than an exact list of versions.
Enforcement for Test Runs¶
DevStack¶
DevStack uses the pip -c option to pin all the libraries to known good versions. edit-constraints can be used to unpin a single constraint, and this is done to install libraries from git.
Enforcement in Projects¶
All projects that have accepted the requirements contract (as listed in projects.txt) are expected to run a requirements compatibility job. This job ensures that a project can not change any dependencies to versions not compatible with global-requirements.txt. It also ensures that those projects can not add a requirement that is not already in global-requirements.txt. This check-requirements job should be merged in infra before proposing the change to projects.txt in openstack/requirements.
Update Processes¶
Updating dependency settings can be a two-step process. If you create both patches at the same time, #2 can use Depends-On to link it to #1.
Review Guidelines¶
There are a set of questions that every reviewer should ask on any proposed requirements change. Proposers can make reviewing easier by including the answers to these questions in the commit message for their change.
Tools¶
All tools require openstack_requirements to be installed (e.g. in a Python virtualenv). All tools have the --help option, which is the authoritative documentation for that command.
Tox & Stable Branches¶
The community relies on tox for test automation, but managing its installation has changed depending the versions of other tools being used.
Most projects adopted a script to provide a facade for developers to invoke in their tox.ini file. The script, named tox_install.sh required tox to be install and managed the installation of dependencies needed for tests.
The script had issues with newer versions of pip, which ended up being smarter about how to install dependencies while adhering to constraint files.
I'm using

tox_install.sh

in my project, what should I do with it?¶
If you're project has a copy of tox_install.sh, you should remove it. All references to the script should be converted to use appropriate upper constraint files, which is typically found in the project's tox.ini file. An example can be found here.
Why are stable branches failing due to issues with

tox_install.sh

?¶
Depending on the state of a project's stable branches, you might notice the following error:
ERROR

:

 

You

 

must

 

give

 

at

 

least

 

one

 

requirement

 

to

 

install

 

(

see

 

"pip help




install

")



This error is caused by a newer version of pip being used on a stable branch that isn't compatible with the tox_install.sh script.
You can fix the issue one of two ways.
The first way is by removing tox_install.sh all together from the stable branch and convert the branch to use constraints like you did with master.
The second way, which might be required depending on the extent of the changes being made to the stable branch, is to patch tox_install.sh to make it compatible with newer versions of pip. An example of how to do that can be found in this patch.